Udimi Review – Getting Guaranteed Traffic With Solo Ads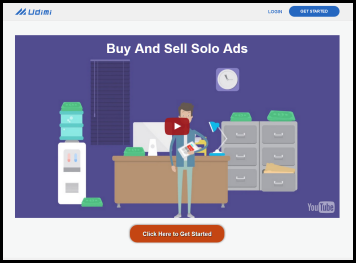 Udimi
Service Reviewed: Udimi
Membership (Free to Join) – $5 Discount when you register via this page.
Type of Service: Marketplace for buyers and sellers of targeted solo ad traffic.
Udimi is a members website where anyone can get targeted guaranteed traffic to their offer by purchasing an agreed number of clicks (visitors) from a solo ad vendor. What Udimi is in essence is a marketplace where vendors can sell traffic and buyers can purchase targeted traffic. You can visit the website and check it out by clicking here. If you register via any of the links in this review you will get a $5 discount after registration.
Click on the play button below to watch my full Udimi review video and see how it all works:
What makes this site/resource different to finding a traffic vendor outside of it is that Udimi guarantees the traffic. Not only does it filter out junk traffic and useless clicks so you don't have to pay for them, but it also covers your funds by refunding you money if a vendor fails to deliver all clicks. In short, it's an intermediary between yourself and the vendor and an assurance that you won't get ripped off as a buyer of traffic to your offer.

As you can see above at the top of the screen once you're logged in you can Find Sellers, Browse through Solo Deals and change your selection criteria for solo ad vendors you are looking to purchase traffic from.
For example, in the screenshot above the settings are for the solo ad to run in the next 7 days (availability) from a vendor that will sell 50 clicks at between 35-45 cents per click. Using that selection criteria Udimi found over 250 sellers that matched this requirement.
You can filter even further down to 24 hours availability and only choosing solo ad vendors that have generated sales.
Once you have chosen a vendor you wish to purchase traffic from on Udimi, you just need to select the date, number of clicks you'd like to buy and include your email ad text (you can enter this as a 'swipe' so it's automatically populated with that ad copy when you buy a new solo ad so you don't have to copy & paste it in every time).
So, let's say for example we purchase a solo ad from the vendor below. Desmond Akil Smith – he's had 2662 positive feedbacks and only 3 negative ratings and he delivers a high percentage of sales versus solo ads delivered at the time of writing. Theoretically and based on previous feedback this would be a good vendor to buy traffic from on Udimi.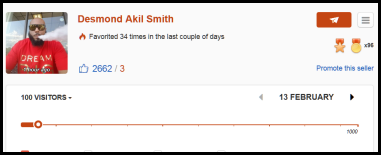 As per the screenshot above you'd simply choose that particular vendor, then use the slider to choose the number of clicks you'd like to order. At first I would recommend purchasing 100-200 clicks if it's your first order from that seller. It's always good to start off relatively small until you get a feel for how well the traffic from any solo ad vendor converts for your offer/squeeze page.

You then either untick or leave the "Allow the seller to start earlier than scheduled" and click on Buy. In the example above it would cost $63 to purchase 100 clicks from Desmond Akil Smith. Udimi will add $3.00 on to whatever you order, so if you buy 100 clicks at 60 cents you would pay $63 in total for your order.
As I write this review I've just spotted another potentially good solo ad vendor so I've purchased some clicks from him. He's got a really high percentage of sales at 60% (there aren't many vendors with sales figures percentages this high) from 95% top tier countries and quite a lot of good reviews so it's worth doing a test run of 100-200 clicks.

Check it out – his name is Ajie Wibowo – he's had 615 positive feedbacks and 1 negative feedbacks so practically a 100% positive feedback rating to date (you are almost always going to get one or two people that leave negative feedback no matter how good the service is you are offering to customers). Also his prices look reasonable as well with 100 clicks costing $49 and $3 added from Udimi which makes $52 in total for 100 clicks. Register for a free account by clicking here and you can order from this vendor.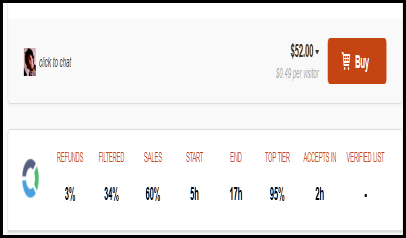 Update: I ran a test solo ad with the above vendor and I got 2 sales from the mailing which was awesome.
You can pay for your order either by Paypal or Credit Card. Once the order is placed you just need to wait for the seller to review your ad copy and accept the solo order. You will find in most instances providing your offer is a good fit for the sellers list and that your links work okay, the seller will accept the order.
At this point the seller has 100 hours to deliver the solo from the starting time. Any clicks that are not delivered once 100 hours have elapsed are refunded to you on a pro rata basis. I usually find most solos are delivered in 48 hours or so but you can check the sellers average delivery time before you order to give you a better idea of how long you can typically expect for that seller to fulfil your order.
Don't be put off by solo ad sellers that take a little longer to complete an order because in my experience they can sometimes give you better results than a vendor that fills the order in a few hours. After you have bought a few solos on Udimi you will soon get a feel for which vendors you want to order from again.
The good thing about Udimi versus an outside website or source is that the traffic is guaranteed so all sellers are obliged to deliver the clicks you have ordered with genuine traffic or they won't get paid. Udimi holds the funds in their own 'escrow' until the solo has been delivered and it does not release funds to the vendor until such time. This protects you as a buyer of traffic so that you only pay for what you get in terms of targeted traffic delivered to your landing page.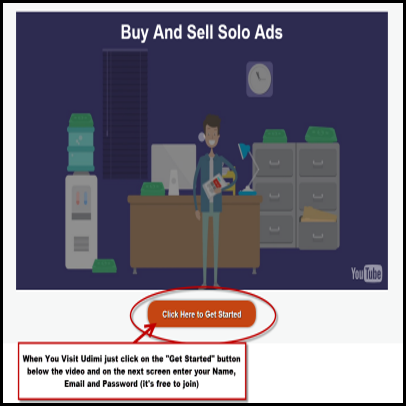 Udimi Review – Concluding Summary
If you are looking for targeted traffic to your offer, Udimi ticks all the boxes. Not only can you quickly and easily place orders using Paypal or Credit Card, but Udimi actually protects you on several levels so you only get guaranteed traffic that you have paid for. It has sophisticated filters in place that filter out junk/useless traffic that you would have to pay for if you ordered directly from a vendor outside this marketplace.
Inside the members area (free to join) there is a "Solo Deals" section where you can often get discounts on solo ad deals as a result of specials that sellers on there are running. Because the seller doesn't actually receive the money for the solo ad you have paid for until all the traffic has been delivered, you can be assured that you don't have a situation where you have paid for traffic that you haven't received. In the rare event that a seller underdelivers on the number of clicks sent to your offer, Udimi will automatically refund and credit your account on a pro rata basis for those clicks. In my experience of using Udimi this happens rarely as most sellers on there are able to deliver a lot of clicks and that is their full-time business.
You will get leads and sales when you use this marketplace. I have been on there for years and I still use it on a regular basis. I am also still getting tons of leads and regular sales from the solo ad traffic I purchase and you can quite literally build a $100,000+ a year business with solo ad traffic and nothing else. If you are in the internet marketing/make money online biz-opp niche this is a no-brainer as a lot of the sellers on Udimi have traffic perfectly aligned with these niches. As well as the 'Marketing' niche, they also have vendors that sell solo ads traffic for Finance, Health, Mobile and Social.
==>> Udimi Bonus <<==
When you register to use Udimi from this webpage you will get a $5 discount. Not only that, when you have joined just let me know by contacting me here or message me directly on Udimi and I will provide you with the details of 3 solo ad vendors on Udimi I have had good results with so you can get off to a flying start as a buyer of targeted solo ad traffic.
If you enjoyed this Udimi review please do share it with anyone you know that might find it useful. Thanks as always for reading!
Get My Blog Posts Delivered By Email